Large Groups & Private Outings are Available!
Bond with Your Co-Workers or Have Fun with Friends!
Plan a fun day for friends or build rapport with your co-workers with a unique and fun outing. Relax on the water and explore together with a group event from Bayou Paddlesports! We can accommodate your schedule and your group no matter the size or skill level.
We have a great fleet of gear to accommodate your group! Group Outings are great for Corporate Team Building Events, Bachelor/Bachelorette Parties and more! Come float down beautiful Bayou St. John with us!
Our Available Paddle Fleet
Single kayaks (21 available)
Tandem kayaks (3 available)
Paddle boards/SUP (5 available)
Schedule A Group Outing or Event
Our Group Outings are great for:
Corporate Team Building
Bachelor/Bachelorette Parties
Birthday Parties with Friends
A Fun & Unique "Girl's Night"
Adventurous Guy's Outing
Big Family Fun Days
Group Outing / PE Class Inquiry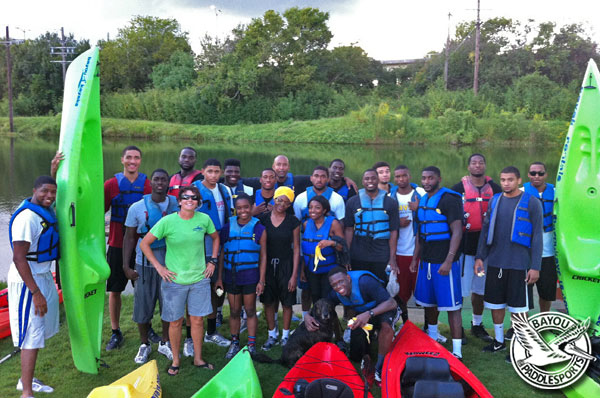 2 hour rental of kayak/paddleboard (SUP)/ PFD (life vest)/ paddle
Container for keys and phone
Complementary lesson if needed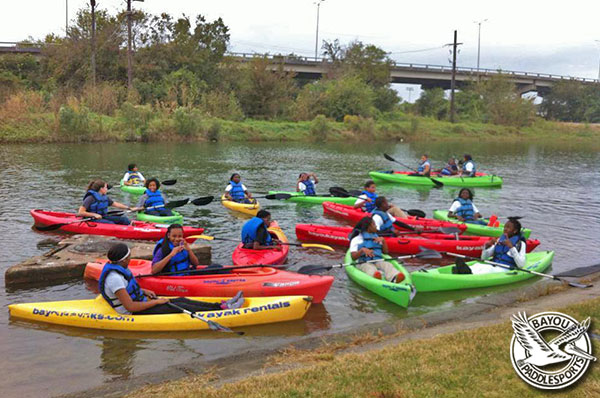 2 hour rental of kayak/paddleboard (SUP) / PFD (life vest) / paddle
Container for keys and phone
Complementary lesson if needed
Group Reservation FAQ
Group outings are a minimum 2 hours. Additional time can be added to your outing upon request for an additional fee.
Bottle of water and nutritious snack provided upon request.
Guides are also available upon request at $75 each.
Chaperon's are required for every 10 students. Include them in your rental numbers as they will need to accompany your group on the water if you decide not to hire guides.
We suggest large groups reserve no later than one month prior to the target outing date. Contact us for availability.
Reservation and ½ deposit due a minimum of 14 days in advance to lock in your reservation.
Checks are preferred but all major Credit Card accepted, 3% fee processing fee will be assessed for credit cards.
Cancellations with deposits will be refunded less 25% if cancelled within 3 days prior scheduled outing date.
In the event of un-favorable weather the group will be given the option of paddling another session in the same day if possible, moving the reservation to another day, or full refund.
Private outings available on days we are closed, an additional $100 fee will be assessed for all outings hosted on days we are normally closed. (Tuesdays, Wednesdays, and sometimes Thursdays- seasonal)
Day of Participation
To maximize your paddling time, have your participants parents read and sign the waiver ahead of time and give our staff the completed waivers at the launch site.
The staff will collect the remaining amount owed for the outing and any additional rentals needed.
Organize the entire group at the launch site and staff member to give a group rules and safety briefing.
Staff and Guides (if requested) will outfit the group with the proper gear and assist all paddlers in and out of the water.
If requested, water will be distributed at the time of group launch and snacks will be served after the paddle.
Our Group Reservation Process
Email us a few details about your outing so that we can contact you and plan your outing. Info needed: Name, phone number, kids and/or adults, number of paddlers, time and date of outing.
We will issue you an invoice based on the information you provided about your outing. (number of participants, gear rented, dates, session times, etc.)
The number of rentals quoted will be the minimum owed, any additional rentals will be added at the time of the outing. Please inform us of any additional rentals prior to the outing date so that we can reserve that gear for your group.
A 50% deposit must be made to hold your reservation quantity, date and time. We cannot guarantee availability for your group without a deposit. Deposits can be dropped off at the launch site during our regular business hours or mailed to us. Our mailing address is PO BOX 792092 New Orleans, LA 70179
Inform us of any special needs if there are any in your group such as allergies, and any other special needs that you are aware of so that we can best prepare.
Please download the WAIVER AND RELEASE OF LIABILITY here.
Unfavorable Weather
Reservations will be contacted in the event of forecasted unfavorable weather. If you are unable to paddle during your scheduled reservation because of the weather your options are as follows:
We will resume paddling after the weather has passed
You can paddle at a later time in the day
Reschedule for another day
Refund