Once a month Bayou Paddlesports hosts a fun and informative family-oriented paddle session.
We invite you to join us!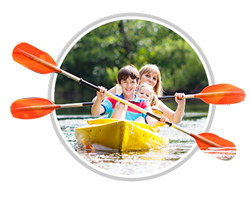 We're inviting you to bring your family out to the bayou to start a new tradition. It takes a village to raise a child and at Bayou Paddlesports we take that role very seriously! We're offering free paddling lessons when you rent gear from 9am -11 am on Family Day. Our goal is to teach everyone how to paddle so they can confidently explore the bayou and beyond! Private lessons available every Saturday 9-11 by appointment make your reservations online or call 504-515-3398 for more information.
NOTE: Because children grow at different rates, gear size may vary depending on the height and weight of your child, therefore we may have to make changes when you arrive to accommodate your lil paddler. Ages 6-12 gear is available for first come first serve.
Family Day Schedule
March 25
April 29
May 27
June 24
July 29
August 26
September 30
October 28
November 25
December 30